TESTIMONIALS
Extracts from Casa Uno's
Visitors' Book


We had an extraordinarily wonderful stay @ Casa Uno March 22-29 (2014). Maribel and Lolo are fantastic. They kept us well fed and entertained! Some of our group accompanied them to Cordoba for an evening.
Ronnie and Roland
Thanks again for a very enjoyable stay at Casa Uno. The house is superb - set around a beautiful pool with a large, well equipped kitchen it is a perfect base to explore Cordoba, Seville and beyond. In addition, the roof top terrace and downstairs breakfast area are the perfect places for dining alfresco or for indulging in the simple pleasures of lounging. The village is delightful - the bar (with excellent food) and the shop provide for all your daily needs and there is excellent walking (along an old railway) on your doorstep - I saw nightingales, hoopoes,bee-eaters and a variety of warblers along this route.
Geoff Pope and Ruth Bowen
We have enjoyed our month in Casa Uno very much. It has provided the base for a fascinating vacation. The location of the house is excellent for day trips, but on the days we didn't travel, Casa Uno provided a quiet sanctuary in which to rest, read and swim. The kitchen was great; the washer and dryer have been a tremendous boon. The atrium and the pool have been so lovely to look at. Maribel and Lolo have been unfailingly helpful and charming. And Maribel's paella is not to be missed! LC & HD, New York, NY, USA
Highlights for me of a great week: excellent company, food and accommodation; the Alhambra in Granada; the Mezquita in Cordoba; and the Easter Sunday parade in Las Pinedas. And Maribel's paella – wonderful! JK, England
The children have really enjoyed themselves: E. thought the architecture and the layout of the house was lovely; N. reckons she's had a really exciting and exotic time; G. is over the top with excitement every day and enjoyed being the centre of attention for the villagers.
Nicholas is charming and Maribel delightful! Thanks to all. J and M C
Beautiful home! Thank you for your kindness, Nicholas and Maribel. NN
Fallen in love with the people (friendly!) and beautiful places that I have seen in Andalucia… Envy you your beautiful roses. MH
Please thank Maribel, Lolo and the wonderful people at the Bar Gran Parada. Your Casa Uno was and is superb. It served as a great base for many sojourns. I hope to keep in touch! PW, Belgium
The best part was sitting around the pool sipping wine and listening to the garden fountain and smelling the fragrant roses. JM
Thank you for a special place to vacation and a brilliant selection of information… Casa Uno has elegant appointments with cheery environment. WIFI is appreciated, luxurious towels, complete kitchen, total library. HH and MM, Santa Rosa, CA, USA
Un grand merci a Nicholas…
…pour ses conversations
…pour l'aide en choisissant quoi visiter
…pour les conseils culinaires
…pour etablir le contact avec Maribel dont nour avons beaucoup apprecie la cuisine
…pour la reception chaleureuse
Family J, Germany
Casa Uno is enchanting and civilised and it is hard to tear oneself away from the courtyard and pool. N&MB
We loved…
The pool (plus noodles)
Meeting your delightful family
Your fabulous library of books
The swallows about to fledge from the eaves
Ultracompetitive ping pong
All your thoughtful recommendations
Family A-Q, USA
We had a wonderful break in Casa Uno. We found the house very well-equipped and comfortable… It was an interesting experience to be here for the town feria/fiesta… We'd love to return. A,J,T and J, Sheffield, UK
This has been our second visit to Casa Uno by special request of our children. We've had an extremely relaxing and lazy time and return to England refreshed. J&CB, Essex, UK
Your booklets have been very informative and helpful. Maribel and Lolo were easy to meet and their guitar-playing and singing was intimately beautiful. AN
We all dream of Maribel's salmorejo. It's one of the best soups we have ever eaten! Our favourite gathering point was the patio table. J&GB, California, USA
Simply amazing! Thank you! B&DW, England
We had an absolutely wonderful time, exploring the area, seeing your recommended sights and just soaking up the ambiance of the village. E, L, A, J, D & C., Washington State, USA
We have had a marvellous time in your beautiful villa. We've eaten too much, enjoyed the wine and the sunshine, and not done half the things we came here to do as we were too distracted by the pool, the table tennis and the bookshelves. As an introduction to Andalucia this week has been fantastic. S&FD, Solihull
Thanks for the house and stuff! It was really cool. Thanks for the jokes! From Tom (11 years) PS. I saw someone chatting up a cheetah. He was pulling a fast one!
An amazing week in Casa Uno! A perfect get-away from life that is many times too busy. Casa Uno is a fantastic experience. You have left out nothing; it is most comfortable; and the extras you provide such as travel tips are most helpful. DD, Minnesota, USA
Casa Uno was a wonderful anchor-point for touring southern Spain…Thank you for your hospitality. M.
Our group ranged from 14 years to 80 years – all agreed that staying in Casa Uno was one of the most enjoyable parts of our trip: a home away from home. PS. Thank you for all the maps and info. AF, Tucson, Arizona, USA
We feel so fortunate to have found Casa Uno. It is a wonderful experience. The peace of the countryside was welcoming after the hustle and bustle of the day. Everyone in the village was so welcoming…I can't think of a better place to stay.
A, England.
Nos ha encantado la casa. Esta llena de detalles, es una casa con vida interior. Hemos estado 6 personas y hemos tenido independencia y a la vez hemos disfrutado de forma familiar de las zonas comunes. Family R, Spain
I would like to thank you for your hospitality and for having arranged everything to be so perfect for us. The house was exactly how I imagined it and we spent a great time around the dining table late in the evening after our long trips during the day… And thanks to Maribel, Lolo and their beautiful daughter for their spontaneous performance of flamenco on New Year's Eve. It was a really unforgettable experience! Family B, Sofia, Bulgaria
I am so sorry about the keys! I finally got round to unpacking all our bags and there they were nicely packed away in one of my travel bags. I guess I just wasn't ready to let go of Casa Uno. We are having a late fall here, but it makes the memories of lounging by the pool at Casa Uno all that much better. IN, CA, USA
Tout s'est tres bien passé et votre masion est tres confortable. Lolo et Maribel sont vraimant charmants et serviables et la cuisine de Maribel est excellente. AMA, France
Please know that we hope to return again someday or send our children and their ladies for a visit. God bless you for your gracious hospitality. KR, Texas, USA
We wanted to say one last time, thank you for your hospitality… The house is really just a pure joy. We truly enjoyed our time here, as well as our chats. IN, USA
The villa was prefect for us. There was lots of space for everyone to relax. The kitchen was an added bonus. The town was quiet and the scenery was beautiful with the sunflower fields all around. In particular, we would like to thank you for the special attention you paid to the detail, such as arranging for us to have dinner prepared the first night and having some essentials at the villa when we arrived.
JB, Canada
Just to say how enjoyable our stay in Casa Uno was. We all had a great holiday and really enjoyed Cordoba. Please pass on our regards to Maribel and Lolo.
CW, Brussels, Belgium
Maribel and Lolo – gracias por todo! La musica, la comida, la limpieza 'extreme' de la casa y…la Buena compania y consejos.Hemos estados muy contentos! A,D,A,R,N,R&S, England

Casa Uno lived up to our great expectations. It is indeed a place for a group of old friends from all around the world to get together We were extremely impressed by the attention to detail, the very helpful advice given to us throughout our stay and the welcome we received. We became regulars in the Bar Gran Parada. We had the magic experience of a performance by Maribel and Lolo of flamenco singing and guitar. Casa Uno is perfect.
Maureen & Patrick Kesteven, Newcastle UK and friends
from Australia and South Africa
A veritable oasis in a wonderful land. This has been our first holiday in Spain and having ourselves here at Casa Uno has made it quite memorable. For which our thanks.
In a single week we have been privileged to wander though the Moorish splendours and gorgeous gardens of Granada's Alhambra Palace, to have experienced the wonders of Cordoba's Mezquita and the nearby Medinat al Zahra archaeological complex.
In each case how lucky we were to be able to return to Casa Uno and its own, modern delights. The pool, the bike, great jogging and Maribel's super cooking. Above it all your own hospitality, for which `gracias!'
Liz and Mike Wicksteed, Thames Ditton, England.
POEM
Colourful
Amazing
So much fun
Awesome
Unforgettable
Nicholas
Outstanding
CASA UNO !
Dana, Tally and Nicole

Wow!! Casa Uno is amazing. When you are sitting miles away somewhere in Metro New York area, and planning the trip, you are dreaming about exactly this place. This villa is wonderful and that's what we wished for. The pool completed our vacation and it also brought us memorable and enjoyable times. We were and are still talking about your very cosy and nice villa as well as unforgettable dinners at Gran Parada and at home with Maribel's famous paella and gazpacho. (The kids had never liked Gaspacho, but when they tried Maribel's they loved it. The paella was amazing.)
Spain is beautiful: so many things to see, so many places to visit. When we come back from an exhausted day, we just want to relax or jump in the pool – that's where Casa Uno comes in. Perfect setting, conveniently located bedrooms, beautiful pool, and great hospitality Not only is this house beautiful, but it has a soul.
Spassibo! Muchas gracias!
From Russia with love!
Janetta, Art, Alla & Alexander – "the Russians who live in the USA"
Thanks for the fantastic time we had at your place.
Things we were really pleased with - the pool, covered private parking, the welcome 'committee' of Maribel and Lolo, the excellent villa information book about supermarkets etc, the welcome bottles of wine, water, the eggs, oranges etc. Also small touches like having salt, pepper, paper towels, olive oil, teabags were very helpful and sorely missed at our next stop.
Vijay Kini and family – Los Angeles

August 2009
Ian and Caroline Burnett and family. Chelmsford, U.K.
Casa Uno was an absolutely ideal house for us. We have enjoyed two very relaxed and lazy week in surroundings absolutely ideal for a family holiday. The heat has provided the excuse for inactivity and saved Robert and Helen from many museums, archaeological sites and churches. Nonetheless we have quartered Seville, Cordoba, Ecija and Almodovar del Rio.
We thoroughly recommend Maribel's cuisine and also the village bar.
Many thanks to you for the enormous time and trouble before we arrived, and once we were here, to ensure a successful trip.

Dear Nicholas,
Thank-you for a wonderful family experience at Casa Uno. The house has a lovely calm feel to it and the –pool has helped to keep us cool. Maribel's cooking was sublime and your hospitality was much appreciated by all.
Seema Sharma, family & friends: London, U.K.
A very well-equipped villa (especially the kitchen). Very comfortable beds. Great base for exploring Cordoba and surrounding area. Nicholas was extremely helpful. Maribel's food was excellent. We really enjoyed the Casa Uno Experience.
The Williams family: Alistair, Judith, Rachel, David – Thames Ditton UK

Thank-you for a wonderful holiday. We very much enjoyed staying in your wonderful villa and the surrounding area.
PS Maribel and Lolo were very attentive and the food was excellent!
Jane & Gerald Rothwell and family
Thank-you very much for a most wonderful, albeit brief stay at Casa Uno. The time flew by too fast. Our first times to Seville and Cordoba were both wonderful experiences, begging for further exploration. All the obvious major attractions were a must – and wonderful. We particularly enjoyed the Cordoba Archaeological museum tremendously.
Your tourist packets were a great help, parking directions dead on and various recommendations a great help as well.
The Simms family: Jon, Nicole, Dylan & Hannah. Shenectady, NY. USA.
Gracias por todo. Maribel and Lolo were very helpful and Maribel prepared a delicious vegetarian dinner for us.
Karen & Alan Zaur: Montpellier Vermont, USA

We have had a wonderful time at Casa Uno. It was really a unique experience to stay here. Thank-you for your hospitality, you have been a warm host to us. Besides, Maribel and her family are great. So we could easily feel at home during the past two weeks. We definitely intend to come back next year, for a longer stay perhaps. All the best to you and your lovely friends.
(Same here. Muchas Gracias por todos. With much affection Henk & Iris).
Jos and Josje Jacobson and family friends – Netherlands

You have created a little piece of heaven within Spain. We had a very relaxing stay. You have thought of all the little details to make us feel most welcome. Thank-you for the recommendations for our day trips. We will definitely recommend this lovely home to our friends who visit Spain.
Raymond Off, family and friends
Older comments:

May 2009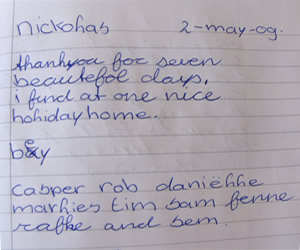 April 2009
Joy, Pat, Scarlett and Eoin O'Donnell
Casa Uno is an absolute delight, from which we have been able to explore a huge area. We have been blessed by great weather and the pool and garden have provided a wonderful private sojourn.
The local bar has not failed us. Who needs to self-cater? The Bar Gran Parada is good value and excellent quality.
Maribel's paella is the best we have tasted in Spain – and we have tried a lot.
April 2009
Barbara, Don, Chris, Laura, Carolyn and Eric Parker
Thank-you for a wonderful stay. Casa Uno is beautiful and very comfortable. The pool was a particular hit with the kids. Thank-you as well for suggestions on places to visit and your warm hospitality .Apr
Maribel's food was delicious. We were converted to her cooking on our first night here and immediately abandoned our plans for self-catering for the duration of our visit.
December 2008
The Lazarus family, San Francisco
As we pepare to depart for Madrid via Toledo we are already sorry to be leaving Casa Uno. It could not have accommodated our family of six more comfortably. It was perfectly situated for all our travels throughout Andalusia...Maribel had the house beautifully decorated for the [Christmas] holidays and well stocked. We were so delighted that our internet wanderings in the early part of this year had led us to Casa Uno.
We know whoever occupies this warm and unique abode will thoroughly enjoy their visit to Andalusia.
November 2008
Karen and Brian Davis, Rylan, Colin, Shealyn, Molly
We are unanimous in the opinion that living in your house, while visiting local Spanish daughters and taking in as much of Andalusia as possible was the most comfortable, convenient, and relaxing way to spend 7 days en famille.
The house itself is great, of course. Any glitches are only charming quirks. The town and its environs seem like something out of a Hollywood set – yet very real at the same time. We will be talking about Maribel's meal: the preparation, presentation and celebration – for ages! That was a marvel.
December 2008
The Lazarus Family - San Francisco
As we prepare to depart for Madrid via Toledo, we are already sorry to be leaving Casa Uno. It could not have accommodated our family of 6 more comfortably. It was perfectly situated for all our travels throughout Andalucia.
We regret missing our hosts, but Maribel had the house beautifully decorated for the holidays and well stocked. We are so delighted that our internet wanderings the early part of this year led us to Casa Uno. We know whoever occupies this warm and unique abode will thoroughly enjoy their visit to Andalucia.
October 2008
The Harringtons, Formosas & Scotts - Hertfordshire & London
Thank you so much for all your kindness, hospitality and advice, combined with the Gorious Casa Uno it has gone to make our too short stay a wonderfully relaxing visit to Andalucia, setting us up the the English winter ahead. We all hope to come back.
September 2008
The Philips Family, UK
We have had a lovely fortnight here. You have made Casa Uno a very comfortable retreat - very relaxing for chilling out, as well as accommodating eight of us for part of the time.
Thank you for the excellent notes on places to see - we didn´´ manage as many as some may have done on their visits, but particularly enjoyed Carmona, Zuheros, Priego and Cordoba. The castle at Almodovar and the Mesquita were particular highlights. We also very much enjoyed meals at 'the local' and the lovely birthday feast prepared by Maribel.
We need to do a spring visit to catch up on the parts we did not see....Tricia & Nick
August 2008
The Walker Family, Teddington, Mddx.
As working parents of now 3 children we are always in search of the perfect holiday (especially with a 5-week old baby in tow!). Over the years we have learned that a combination of a house, or accommodation, that is as comforable, or more comfortable, than home is an absolute must, plus proximity to numerous sites equals a perfect holiday. When you add the sun and a pool and your hospitality - well it just doesn´t get any better! Thank-you so much, we have had a truly relaxing time and it has been great to revisit Seville and Cördoba and to discover new places like Baeza and Almodovar. We will definitley recommend Casa Uno to friends and family. Enjoy the rest of the summer. Heidi, Jim, Madison, Cole and Baby Donovan Walker
May 2008
The Adi Family (Virginia, USA)
Our trip to Spain will be unforgettable. Thank you for your warm hospitality and the wonderful house you loaned us. It is a home - warm, beautiful, functional and exotic & most important: comfortable. My kids loved the pool. I loved the kitchen. Wish I had one like that in the States. I loved the architectural style - enclosed courtyard and pool - providing comfort, freedom and privacy. I loved the village, with its simplicity, friendliness and the lesson it teaches: i.e. life is too short for it to be a rat race, all work & no play. They know how to live here: the Siesta!! Great idea. My family & I roamed and absorbed so much beauty - thank you for the base that made that possible...
May 2008
Hasta luego, Eva & Roger Miller (Wiltshire, UK)
A wonderful relaxing holiday in a well equipped villa & the location.......muy, muy bonito. A beautiful pool in a very private villa, inviting very easy living. I could holiday here for ever.
December 2007
Jun Abbas & family (Singapore)
It´s been an extremely lovely stay for me and my family. Your house is great!
We can easily feel at home. It´s warm and charming…awesome!
Will definitely come back for future stay, a long one perhaps. Maribel and family are great too! All the best to you and your family,
October 2007
Jan & Graham Wyles, Sally & Paul Catel, Margaret & Ian Small,
Barbara & Tony Deakin (Australia)
Thank you so much for our stay here – it´s been a wonderful ´pull-up´in some two and a half months of travels and an opportunity to relax, read etc…..as well as explore the locality, drink at the local Bar and travel in to Cordoba & Sevilla….
We shall certainly recommend to Aussie friends planning travels in Spain
August 2007
Martyn, Karen, Alex, Leo and Nina Brabbins (Gloucestershire, UK)
So much thought and care has been lavished on the design and construction of Casa Uno that those lucky enough to discover its charms will be instantly entranced!
During our first visit in August 2007 we were already planning visit number two - October 2007 -and the next trip cannot be too far in the future!
May 2007
Jan & Barbara Adam (Wales)
We think back with such immense fondness to the amazing place you have created. I hope that you will have lots of people this summer who appreciate it as much as we did.
2007
Miriam & Aled Hopkins (daughter & son-in-law) + grandsons - Cian (aged 11): "The house was like a Roman villa and the pool was fabulous. The local children were very friendly and I spent hours playing with them late at night !" and Ifan (8):